The heel spur is a thorn-like bone outgrowth on the heel bone. A distinction is made between the upper (dorsal) and lower (plantar) heel spur, whereby the plantar heel spur is much more common. It forms from the edge of the heel bone along the sole of the foot towards the toes. The dorsal heel spur is formed when the Achilles tendon is attached. The reason for a heel spur is calcification of the tendon attachments, which are caused by foot malpositioning or strain. These calcifications can lead to chronic irritation, leading to the development of a heel spur. It comes to mostly stabbing pain in the foot when walking and standing, which can be very unpleasant.
As an orthopaedic surgeon and expert in the treatment of foot pain, I am happy to help you with problems that result from a heel spur. Therapeutically, shoe fittings and the wearing of orthopaedic shoe insoles can be considered at the beginning. Physical therapy can also contribute to pain relief. In addition, infiltrations, analgesic medication, cold therapy or shock wave therapy are options to alleviate symptoms. If there is no improvement in the foot's condition, it may be necessary to remove the heel spur surgically. As an orthopaedic surgeon, I would be happy to advise you on the options for heel spur surgery.
Please contact me for an appointment in my office in Vienna 1190.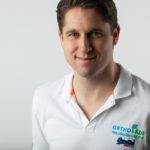 "Stellen Sie sich im Ausfallsschritt an eine Wand, wobei Sie sich mit den Händen an der Wand abstützen. Der Fuß mit der Sprunggelenksinstabilität ist der hintere und zunächst im Knie durchgestreckt. Gehen Sie mit dem hinteren Fuß schließlich mehrmals leicht in die Knie, sodass Sie einen Zug in der Wade spüren. Beide Fußsohlen bleiben auf dem Boden. Führen Sie die Übung langsam durch."